Strategy
& Market Research
Many clients choose Yellow Duck Marketing because we provide the full array of Integrated Marketing services. The good thing about ducks is we can fly high and see the big picture strategy and also land and integrate real-world webbed feet on the ground tactics.
We can have the best ideas on the planet, but if we don't know how to reach your target audience, we might as well pack up our great-looking creative and go home.
We want to know who your consumers are, what matters to them, and how they make their buying decisions. That way, we won't waste their time and money—or yours. It's been said already, and we mean this in the best possible sense: Yellow Ducks are research nerds. We could swim around in numbers all day, and we will. As we get to know you and your products and services, pore over feasibility studies, and ask questions of focus groups and survey respondents until the left sides of our brains cry uncle. This is the best way for us to make sure our marketing strategy is smart, effective and as precisely calibrated to meet the needs of your demographic as possible.
We work to come up with a full strategic plan but can also work on an ongoing basis to oversee a long-term marketing campaign and push and pull the various marketing levers to reach the most effective outcomes possible. We are not a traditional "ad agency" so we don't have a vested interest in pushing one tactic over another; our goal is simply to succeed.
Expertise
Feasibility Studies
Marketing Plans & Budgets
Focus Groups
Brand Audits
Logo & Testing
Website Testing
Online Surveys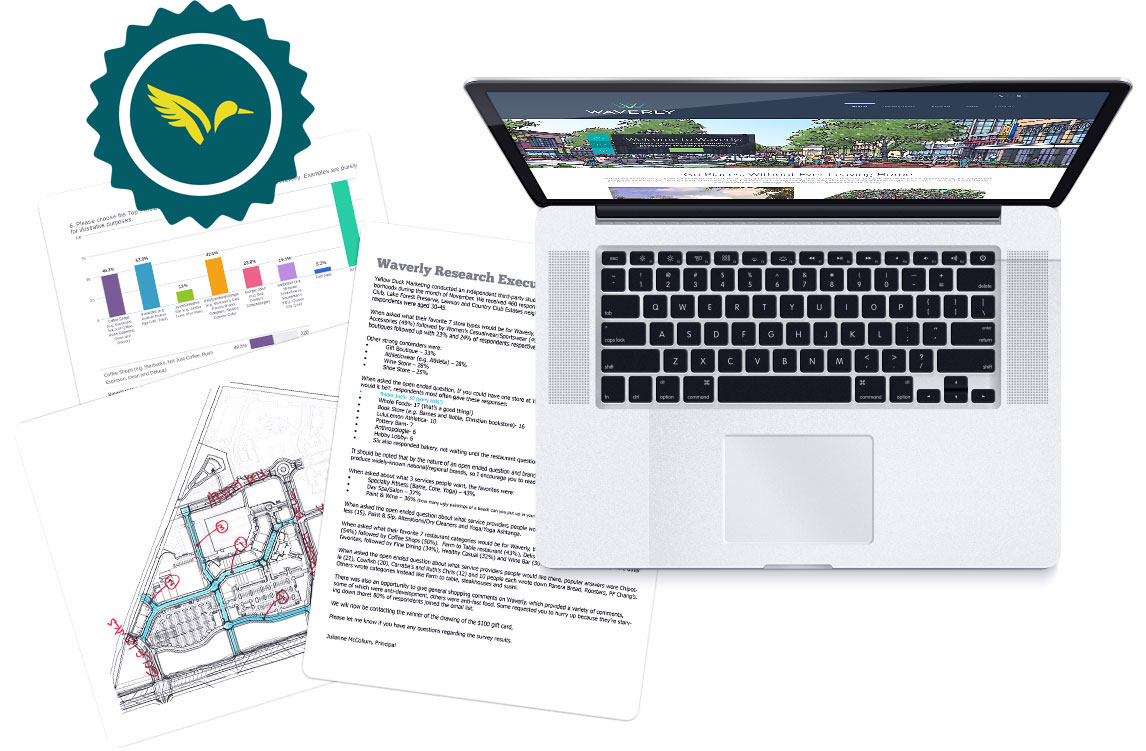 DUE DILIGENCE
The developers of Waverly knew that a targeted rifle approach based on research can be much more efficient than a broad, shotgun approach and that a truly successful real estate development brings retailers and restaurants that neighbors actually want. They brought in the Ducks to be their "ears" through the rezoning process as well as develop a survey of over 450 neighbors to gauge their preferences to help target their leasing efforts to the concepts people really wanted.
read the case study
I have had to pleasure of working with Yellow Duck Marketing on two public engagement projects. The creativity shown in their deliverables and their ability to adapt in everchanging worlds is truly impressive. - Kyle Bridges, Charlotte Center City Partners

Yellow Duck Marketing is a first-class boutique marketing firm with a team of very talented creative professionals. They are capable of working several projects simultaneously while always giving your their best work and making you feel like their only client. - Lili Curtis, Marketing Manager
Related Market Research & Strategy Projects