Social media plays a huge role in how you market your business these days. Most clients come to us wanting Facebook, Instagram and Twitter. But what comes to a surprise to most is that Instagram is not considered one of the "big three" social networks for marketing – LinkedIn is. LinkedIn is highly underrated – people write it off as a "professional Facebook" or feel that it's not right for their industry or audience. Check out these 3 ways that LinkedIn can help boost your business.
Network
LinkedIn has more than 150 million members but unlike some of the other channels, the vast majority of accounts are real people. It's essentially the internet's largest "business mixer" – a virtual way to hand out business cards without all of the leg work. LinkedIn works off of degrees of separation, meaning that everyone in the world is connected to everyone else via a friend of a friend of a friend. LinkedIn uses this to connect you with executives, prospects, other business owners, etc., that you would potentially never meet in person. Start by making connections, then build relationships.

Impress
LinkedIn may get your content in front of the masses, but it is up to you to produce high-quality content. Having an updated and consistent presence on your company profile is key. Rather than scouring the web for existing content, LinkedIn is a great platform for showing potential clients/customers that you are an expert in your industry. A canned sales pitch (or Twitter's 280 characters) isn't always enough to sway potential consumers to give you a shot. A LinkedIn update is similar to posting on Facebook or Twitter: it's a caption with an article or photo. LinkedIn also gives you the choice of publishing your own content – similar to posting a blog post – straight from the LinkedIn platform. By creating your own content, participating in LinkedIn discussions or proving your expertise in LinkedIn Answers, you have a live, updated stream of the expertise and knowledge you have to offer in a virtual portfolio.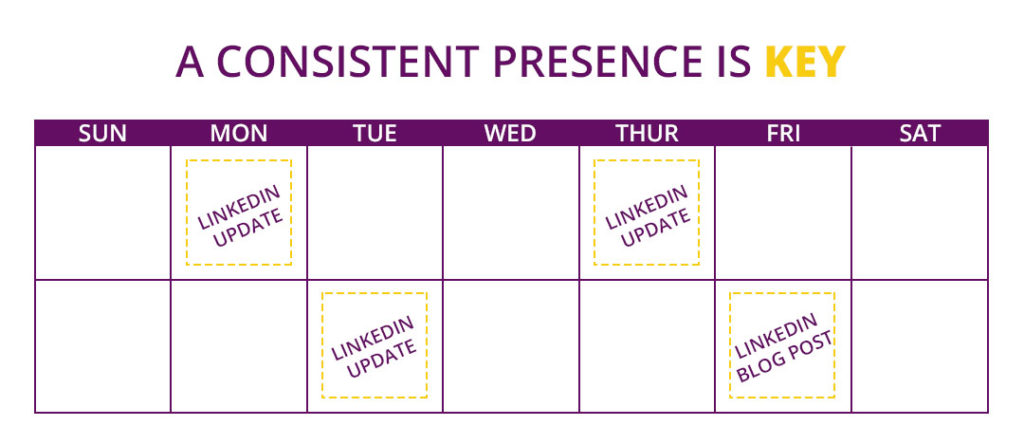 Advertise
It's a well-known fact that in the world of social media, you have to pay to play. Thankfully, social media advertising allows for low budget with high conversions and LinkedIn is no different. The targeting on LinkedIn is unparalleled in the realm of digital advertising. It gives you the ability to lock in on company size, job role and industry of your target audience. LinkedIn is not just for posting ads for recruiting. It is a great place to advertise office space or software.
LinkedIn also offers a "Sponsored Updates," pay-per-click feature that offer demographics similar to other platforms. However, unlike other platforms, LinkedIn goes a step further and allows for customization based on company name, job title, function, skills, schools and groups.

Navigating LinkedIn can seem intimidating and confusing, but the platform really has a lot to offer. If you feel that LinkedIn could be a valid option for your business but aren't really sure how to get started, shoot us an email or give us a call: 704.271.9555. We would love to sit down with you and talk strategy!