One of the most rewarding parts of our work at Yellow Duck Marketing is being able to help shape places and spaces all over the country. We gain inspiration from other projects, seeing how they engage people and become iconic – places you want to bring your friends to when they come visit or that you take your kids to every weekend.
We're launching a new blog series called "Places + Spaces We Love" which will feature five different places anywhere in the world that we're drawn to. Each blog will have a different theme. This month we're covering our very own home base of Charlotte! Here are just a few places and spaces we love: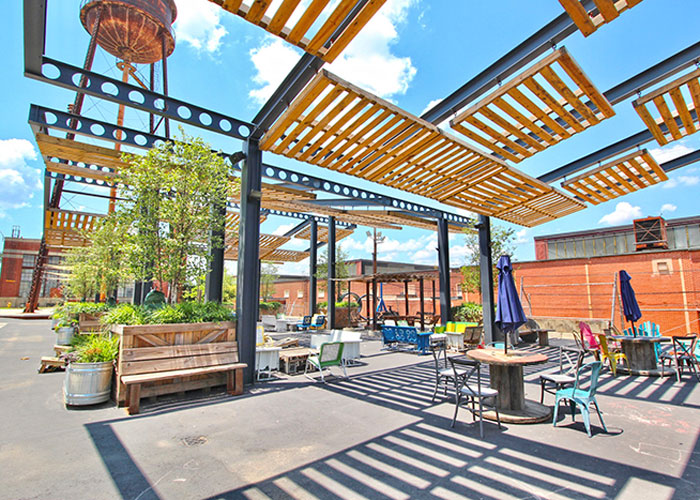 photo credit: www.savvyandcompany.com
Camp North End
As it continues its rapid growth, Charlotte isn't always the best at preserving its history. But Camp North End is a welcome exception. Built as a factory for Ford Model Ts in 1924, it also served as a missile-building camp during the Cold War and later a distribution center.
Rather than letting it fall into disrepair, ATCO Development had a vision for transforming the historic site into a creative hub with a mix of restaurants, retail, office and event space. Over the past three years, Camp North End has become one of Charlotte's most dynamic spaces, where you can find restaurants and food stalls, locally owned shops, creative businesses, events and weddings big and small, live music and an energy that is palpable. The restored brick buildings, iconic water tower and Boileryard make it unlike any other place in Charlotte and they have done a great job programming the spaces through innovative eventing. For more information: www.camp.nc.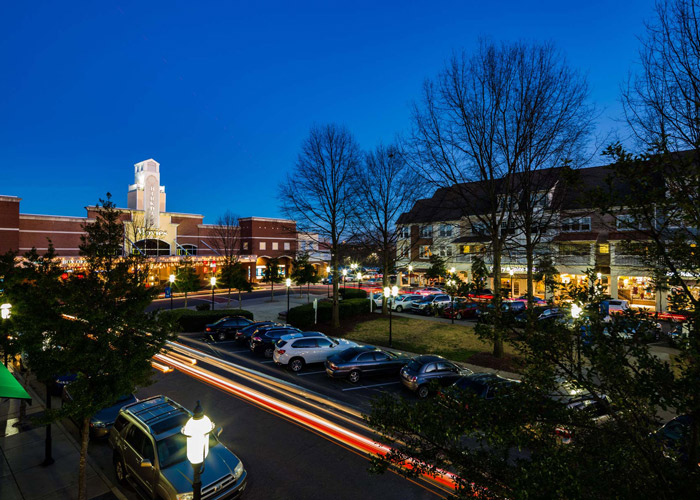 photo credit: www.huntersvillechamber.com
Birkdale Village
As the OG of new urban mixed-use development in the Charlotte region, Birkdale Village is an open-air shopping center built nearly two decades ago in Huntersville embracing the live-work-play concept. Featuring ground-floor retail and restaurants with luxury apartments and office space above, Birkdale Village was one of Julianne's earliest projects with Crosland where she worked with the great property manager to create events that transformed lovely design into a true "town center" for Huntersville. With a true village atmosphere and a vibrant Main Street, Birkdale Village draws in shoppers with its array of retail, distinctive Nantucket-inspired architecture which has aged gracefully and does not feel outdated. The mature trees give it a lush feel. Peter B. Pappas, Peter A. Pappas, Jud Little and David Ravin, among others, transformed Huntersville from a sleepy suburb into one of the most desirable places to live, and other developments throughout the Southeast have followed its model. For more information: www.birkdalevillage.net.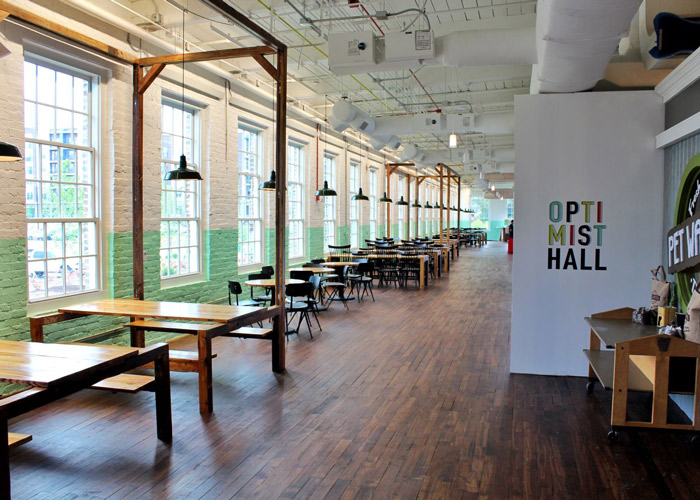 photo credit: www.charlotteobserver.com/charlottefive
Optimist Hall
The Optimist Park neighborhood is quickly changing and at the center of it all is the old Highland Park Mill, built in 1892 as Charlotte's largest textile mill that churned out millions of miles of fabric and yarn for more than a hundred years before shutting down in 2015. When it was purchased by White Point and Paces Properties in 2016, they envisioned creating Charlotte's first food hall along with innovative office space in the historic building. Since opening last year, Optimist Hall has curated a diverse array of restaurants, coffeeshops, cocktail bars, juice bar, brewery and gelato shop, as well as a few local retailers. We're excited to see Optimist Hall continue to grow in the coming years and love the new signage from Southwood Corp. For more information: www.optimisthall.com.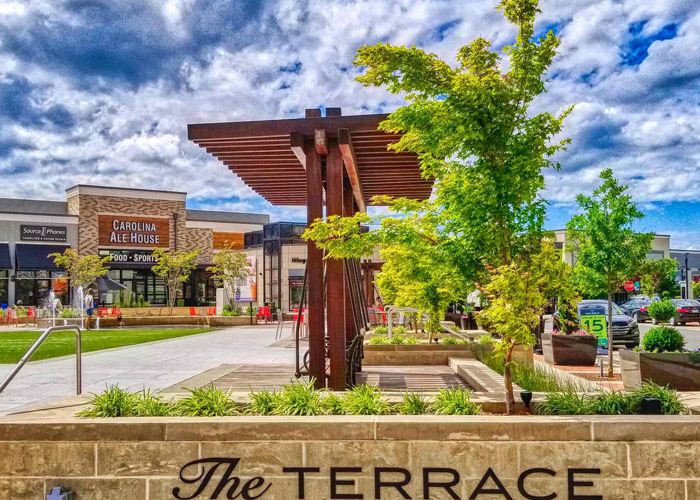 photo credit: www.instagram.com/mattshdr
Waverly
One of our favorite places inspired by Birkdale Village is Waverly, which Yellow Duck has been involved with since the beginning – back to when the Matthews family decided to partner with developers Crosland Southeast and Childress Klein to fulfill the need for retail, office and apartments in South Charlotte, off Providence just south of I-485. Community input was a key part of the development process. Along with the developers, we met with hundreds of local residents and hundreds more weighed in through online surveys to share their recommendations of what they wanted to see at the mixed-use development.
As part of our role, Yellow Duck named, branded, created collateral and signage, and promoted Waverly while Childress Klein and Crosland Southeast utilized public input to attract the types of tenants that the community wanted to see – clothing boutiques, locally owned restaurants both upscale and fast casual. The central green we named "The Terrace" and splash pad are a popular gathering place for families, and events like Winter Wednesdays, the Puppy Bowl and summer concerts keep neighbors engaged throughout the year. The development has become so iconic that the entire area of Providence south of I-485 is now called Waverly. For more information: www.waverlyclt.com.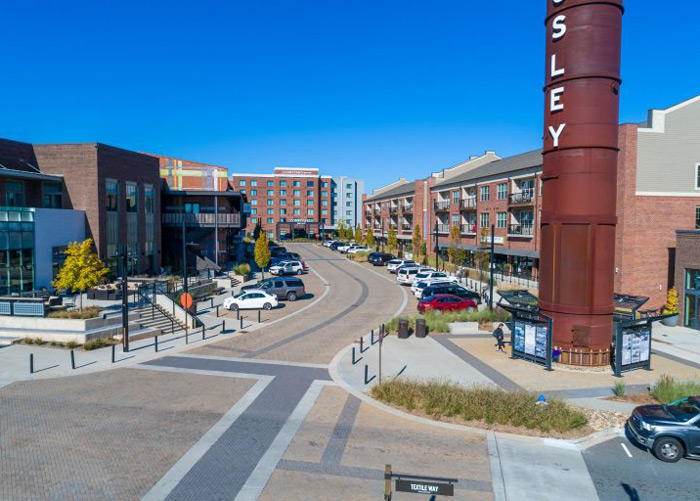 photo credit: www.kingsleyfortmill.com
Kingsley
Right across the South Carolina border in Fort Mill, Kingsley is a new mixed-use development created by the Close family of textile mill fame. The development weaves history into every detail, from the old painted brick to the Springmaid mural to the historic names painted on the buildings. The 100-foot brick smokestack is a reminder of the area's industrial past, serving as a beacon for the development. With its abundant amenities, Kingsley attracted Lash Group and LPL Financial to relocate here, bringing 5,000 employees.
The Yard, a lush community space surrounded by restaurants, draws families in along with festivals and events and the Lakeside Promenade on the 10-acre lake provides a peaceful walk and connects to the Anne Springs Close Greenway trail system. For more information: www.kingsleyfortmill.com.