Logos are one of the most powerful tools of a brand's representation and public persona, and should hold significant meaning for a company or organization. In order to be memorable and impactful, a logo must be thoughtful and intentional. Achieving that is not a speedy task – it involves client interaction and input, industry research, concept and development to create a great corporate, product or project logo.
At Yellow Duck Marketing, we design dozens of logos every year, and each one follows our process of brand discovery to create a new visual identity. Here's a behind-the-scenes look at the logo development we did for Church Watson Law.
Kickoff & Discovery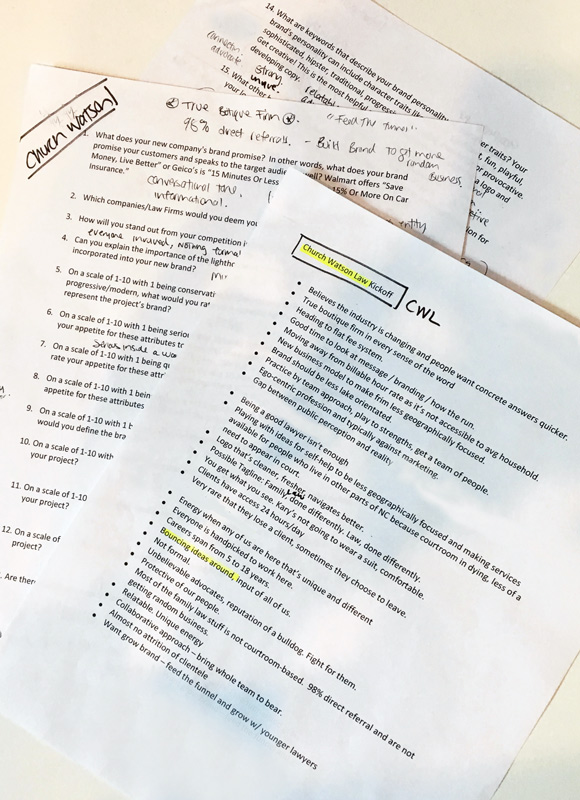 This is the first and most vital stage in the process. It's where we get a deep dive into the client's vision for the projected brand personality. We ask a series of questions that allow for an out-of-the-box thought process in order to analyze where the brand should be, rather than just redoing what is currently being done.
In the case of Church Watson Law, their goal is to be completely client-centered with a shift to a fixed-fee model and conveniently meeting the client where they are. A refreshing and reimagined way to practice law for the 21st century.
Brainstorm and Concept Development
Analyzing the brand questionnaire results and competition is imperative to ensure the brand vision is in line with the new direction. You want to stand out from the rest in a world that is so saturated with choices, which can become a challenge. For Church Watson Law, we researched similar law firms in the area and their branding efforts in order to make sure that the new concept was unique and memorable. Compiling inspiration for local and national sources in similar and different industries gives a wide breadth of imagery in the brainstorming process. It was important for Church Watson to keep the lighthouse concept from their old logo as a meaningful visual for the new brand, but it certainly needed to be elevated.
Sketching and Design Execution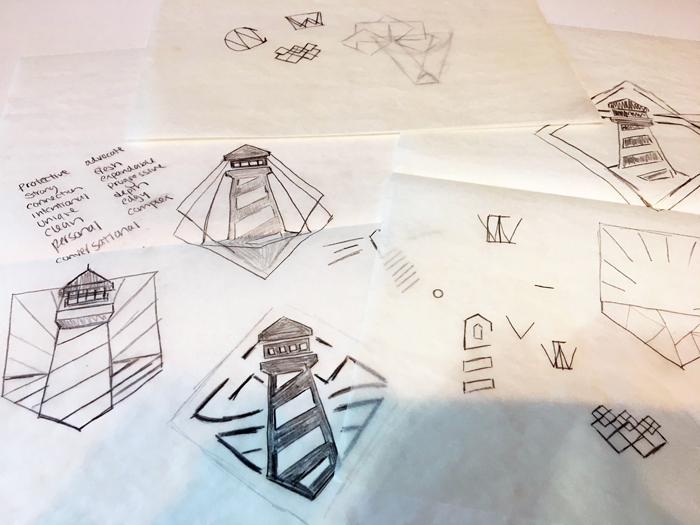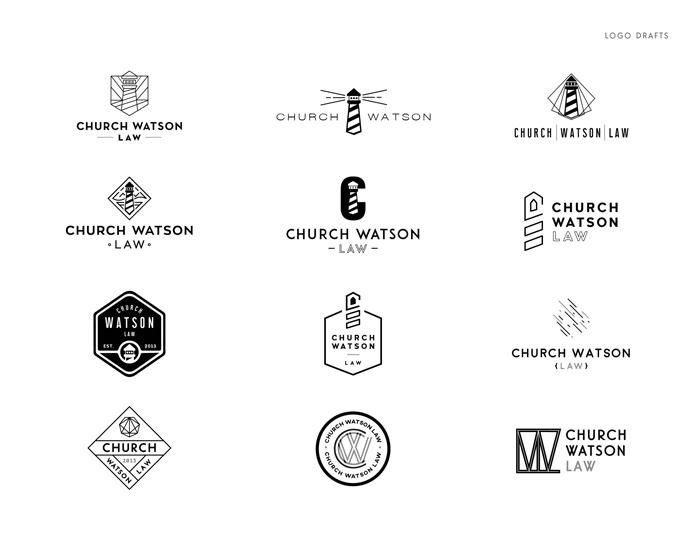 Sketching can be a freeing exercise in logo development because you aren't constrained by the computer mouse – getting all ideas on paper is the best way to get the creative juices flowing. Utilizing the brand character trait adjectives provided in the initial meeting is one of the most beneficial tools for logo development. Once we've identified the most promising concepts, it's time to take them into the computer. From here you can fine tune anything that needs cleaning up and of course explore fonts!  For Church Watson, we wanted to keep the fonts clean and modern to keep in line with their brand vision.
Logo Presentations
Once the top 4-6 logo concepts are chosen, we create a presentation for the client with each logo accompanied by keywords and a description of the meaning behind each one. Church Watson loved two logo concepts and asked to combine elements of each to see if that could work as a new concept. We combined the badge shape of the first concept and the lighthouse styling of the secondary into a final approved logo.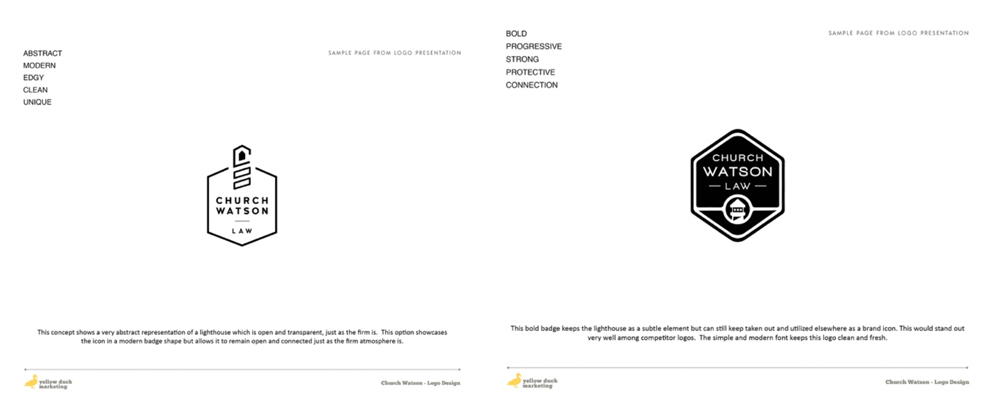 Once the final logo is selected, we take it into color. Remaining true to the Church Watson brand core and message of energy, conversational and uniqueness, we settled on this vibrant and elevated color scheme.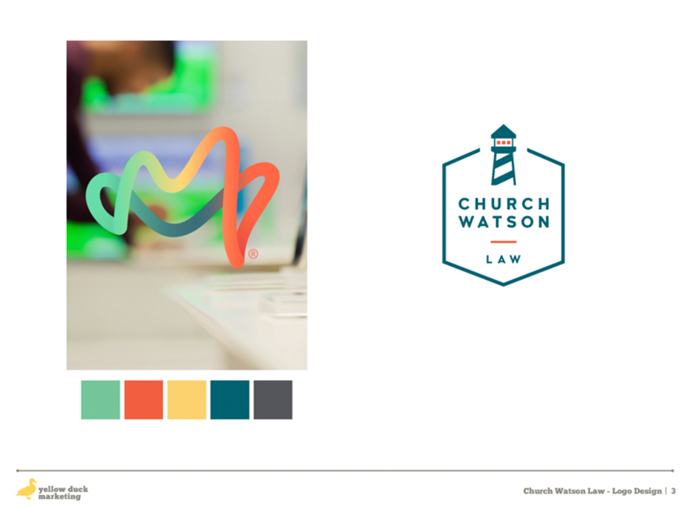 Final Logo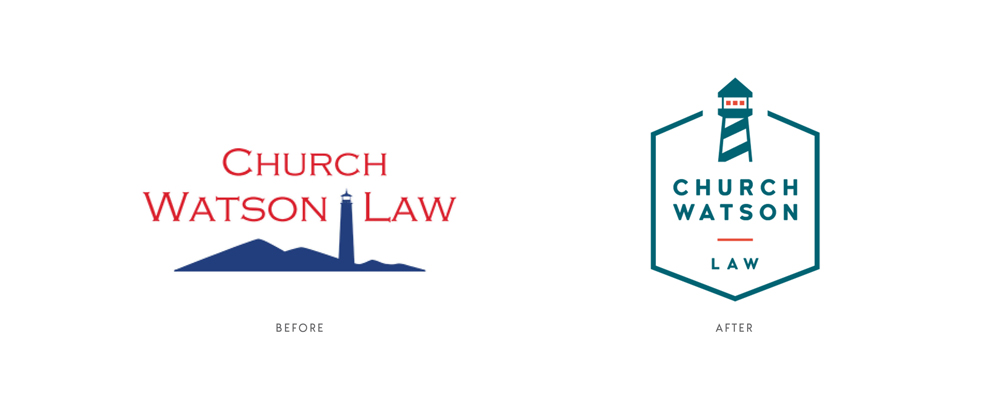 Next Steps
Now that the new logo has been approved, we have taken the new branding into an updated stationery package and website.  Stay tuned for images on our social media pages!
If you want to see more of our corporate logo designs or real estate branding, visit here.