Before sitting down and creating a Facebook page for your business, you should ask yourself, "Why Facebook?" If your answer is along the lines of "everyone has a Facebook page" then you need to re-evaluate.
Facebook is a great platform across the board, but there are situations where it may not be the best platform for your business. Who wants to devote time to something that isn't going to yield the best results? You should have a strategy planned out before you ever click that "Create Page" button. A couple of questions that you can ask to help flesh out that strategy:
What do you hope to accomplish with a Facebook page?
How can this grow your business?
What are your short-term goals for this Facebook page? Long-term goals?
What does a successful Facebook page look like to you?
Having answers to those questions in mind as you create the page and begin to write content will start you down the right path to having a successful Facebook presence.
The Basics
After you've gotten your page set up (Check out this link to help you with the creation process: Setting Up Your Page), there are a couple of areas that need your focus before you start posting.
Username
When choosing your username, you want to keep it consistent across any social media platforms that you are on so your fans and followers can find you easily. If you're choosing a brand-new username, we suggest you keep it simple and straightforward.
Page Roles
Setting up Page Roles is important. You want to be a little stingy here. Page Roles gives other people access to your Facebook page back-end, meaning they can post & comment as the business page and edit existing posts. There are different levels that can be given, but we still recommend only allowing access to those that absolutely need it and limiting access by role. Only one person needs to have Admin access, which allows full access, including adding other roles and changing settings to the page. The flip side is if the only Admin is an employee who leaves (particularly under unfortunate circumstances) you might lose access to the page so we always suggest a backup Admin. An Editor can post but cannot add new roles.
Branding
A Facebook page is structured to be visibly pleasing. It also works well to help you carry out your branding on the profile.
In most cases, the best profile picture will be the company logo. Make sure it's a clear, crisp, correctly sized image that is visible on desktop and mobile. We don't recommend changing the profile picture often, and if so, only on very rare occasions. Use your cover photo to further carry on your brand message. Take advantage of the new video capabilities and implement a branded cover video to tell your brand's story.
Call-to-Action
Facebook has recently implemented a Call-to-Action or CTA button that lives at the top of the page. This can be a "Shop Now" button,
"Learn More" button, etc. that will drive viewers to your website or online store.
About Section
Keep your About section short and concise. No need to list a full company history here, but you do want to include a couple sentences about your company and its values. This is also where you can list contact information such as a phone number and website, as well as hours of operation and address if you have a physical location. The most important thing is to make sure that this section stays updated – if your phone number or location changes, don't forget to update your profile as well. Consider customizing the tabs on the left-side of your profile to help your viewer's find easily find the information they are looking for. (See how Kohl's uses the side bar to provide current sales Ads & community information?)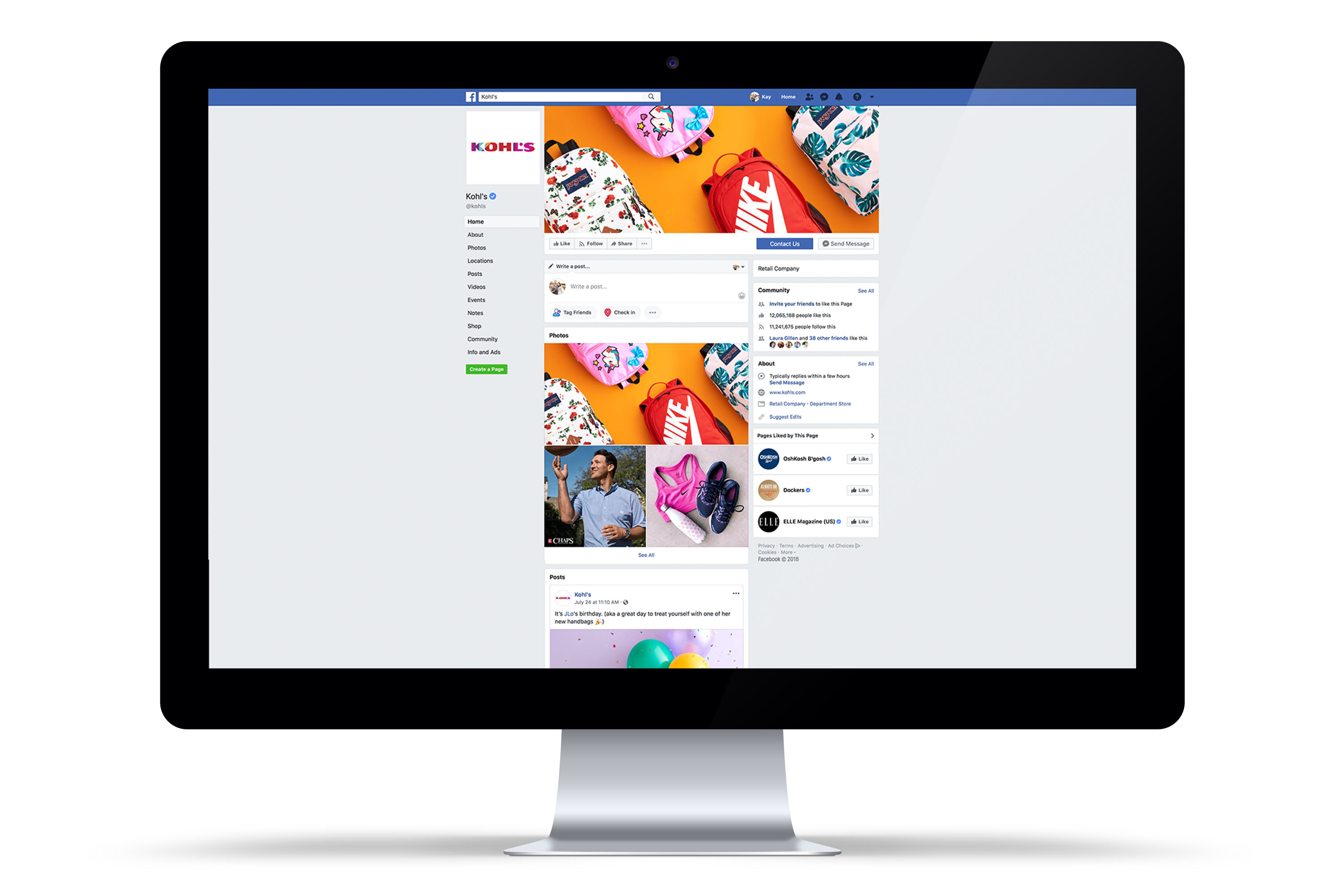 Content
Now that you've got all of the basics out of the way, you can begin to post content. The key with good content is quality over quantity. Make sure that your posts, images and videos are engaging and meaningful while still being high-quality visuals. Use a site like canva.com to ensure that your images are the correct dimensions so that they display properly on desktop and mobile.
Once you've begun posting, start paying attention to the types of posts that get the most engagement. What time were they posted, what day of the week? What was the topic of that post, the subject of that image? All of these things play into increasing your engagement and you can begin to experiment to see what types of content your audience responds the best to.
One of the biggest trends that we've seen in social this year has been a sense of transparency for business on social media. Followers want to know that there is a face behind the business. Engage with your followers, comment on their posts and respond to their comments on your posts. They want to feel included. When you have questions, make sure to respond as quickly as possible to cut down on lag time and the feeling that no one is listening to their concerns.
Advertise
While Facebook is a very cost-effective way to reach potential customers, you still need to pay to play. Set aside an advertising budget on Facebook. Fortunately, a little goes a long way with Facebook ads. You can use page promotion to target potential clients who haven't seen your page, or you can boost specific posts or events to spread information to your followers and their friends.
Facebook is constantly changing and evolving their algorithm and it can seem impossible to stay up-to-date on the latest change and implementing that to your page. If Facebook has you stressing, give us a call or send us an email. We would love to help you out.