When Clay Grubb of Grubb Properties, heard that Julianne McCollum was leaving Crosland, he was first in line to become a client. Since that date four years ago, Yellow Duck Marketing has provided an array of account services for the company, providing brand standards and marketing support for two of their apartments brands, Sterling and Link, as well as corporate materials such as annual reports and investment fund booklets.
When they wanted to develop a brand that was integrated into the community and appealed to Gen Y. We developed not just logo and brand standards along with partner Anoroc Agency, but ways that the first community in Richmond, VA connected in a different way. As an example, we hosted a community art contest called "What's your Manchester?", trying to elevate the blossoming arts scene in Manchester.
YDM also produced leasing materials, flagpole banners, direct mail, sidewalk stickers and other materials targeting grad students from VCU.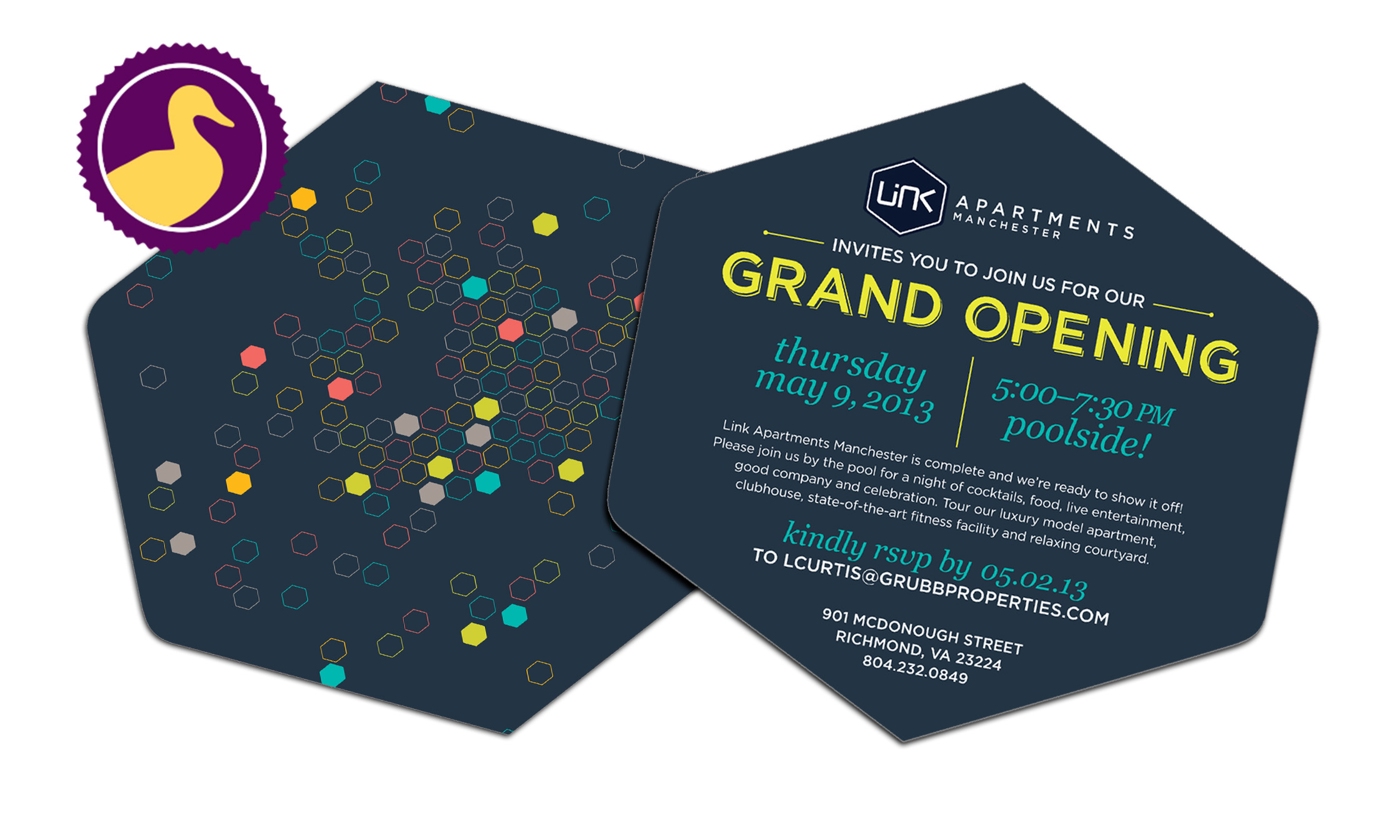 Yellow Duck Marketing is a first-class boutique marketing firm with a team of very talented creative professionals. They are capable of working several projects simultaneously while always giving your their best work and making you feel like their only client. - Lili Curtis, Marketing Manager

I absolutely loved working with the Yellow Duck team. They always had the most creative and fun ideas for our projects and their energy was contagious! They kept on top of every detail, made sure to communicate along the way, and stayed within our budget. - Lili Curtis, Marketing Manager
Sterling Town Center
Grubb Properties
Sterling TownCenter Apartments is located near the Triangle Town Center, but adjacent to WalMart, so people in the area jokingly called it the "Residences at Wal-Mart." The finished product didn't have granite counter tops or hardwood floors like many new apartments in the Raleigh market so we knew we were "coming from behind". We knew that the brand had to stand out in a fun way, not take itself too seriously but provide a desirable enough image that people would want to live there. We developed a multi-pronged strategy integrating the traditional methods (apartment online listings), website, successful SEO campaign and signage. We also created a direct mail campaign customized to the recipient's location, paid search campaign, and seasonal promotions at the popular Triangle Town Center mall.

The results were amazing. Demand outpaced projections by 80% and the units leased as soon as they were available. The campaigns generated 1,670 calls in 9 months, 12,238 visitors to the website and full lease up of all the units. A year after our SEO efforts were discontinued, website traffic is down 30%.