Happy 2014!  The ducks are a bit sad to leave 2013 behind- it was a great year for Yellow Duck Marketing (YDM)! We posted a few of our proudest accomplishments from 2013 on Facebook over the last few weeks but thought we'd color it up a bit here.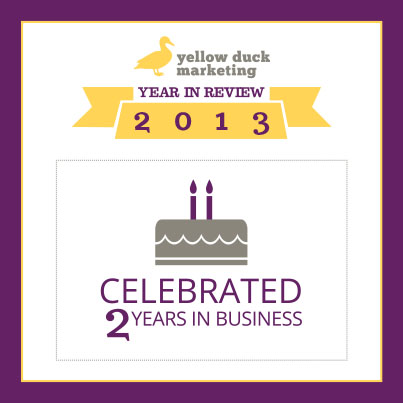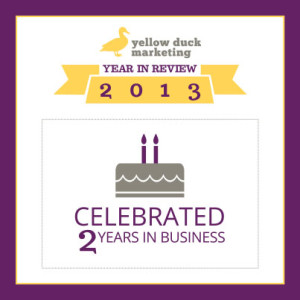 Starting with the small, yet important numbers, we jubilantly celebrated two years of business in July.  Since our inception we have added many new clients (see below) and several ducks to the team. Currently, we have three full time ducks and many affiliate ducks in our pond.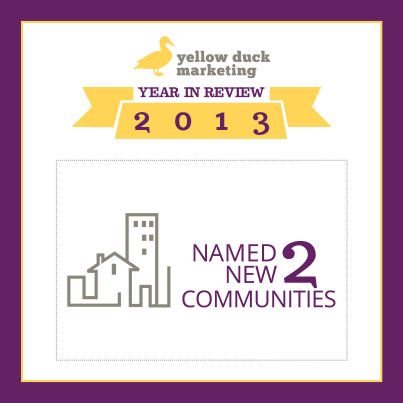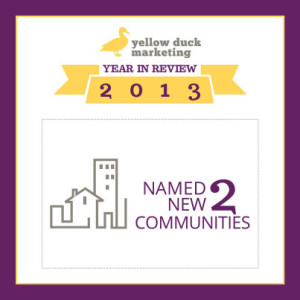 In 2013, we helped name two new communities in the Charlotte market.  First, the old Bloc 90 project, newly named Edgeline Flats on Davidson. This multifamily community in the NoDa dawns cement walls and concrete floors (not your typical Charlotte apartment!).  We helped 759 Ventures dig through the history of NoDa and land on a name that portrays its "edge" of uptown location and edgy charm.  The second community, Waverly, is a joint project between Crosland Southeast and Childress Klein.  Naming this mixed-use, 90-acre property called for lots of brainstorming, testing and surveys. Both properties have been fully branded and are now using YDM websites!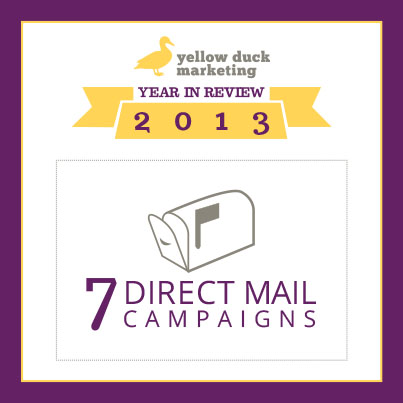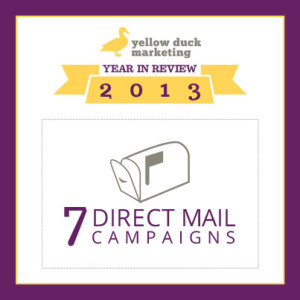 Direct mail can be an affordable way to get your name in front of your target market if done the right way.  In 2013, we helped clients like The Sporting Gent and Grubb Properties compose and design attractive direct mail pieces that stood out in their targeted audience's mailboxes.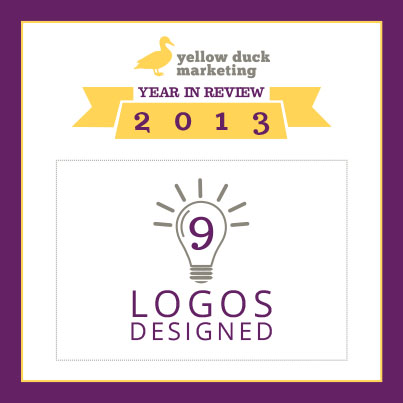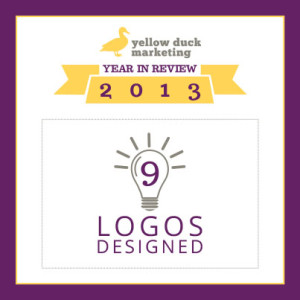 A logo is a very personal stamp of someone's company-  we understand that someone may not always remember your company name but they will hold onto it if it has a memorable logo.  We take branding development very seriously, developed a 10-step process and our graphic designers love to give our clients lots of options.  In 2013 we created fun and memorable logos for Charlotte Magazine's Salon and Spa Week, Revolve Residential, Edgeline Flats on Davidson, Waverly and more. We went beyond the logo process of course to extend the brand by creating coordinating collateral, direct mail, promotional items and websites.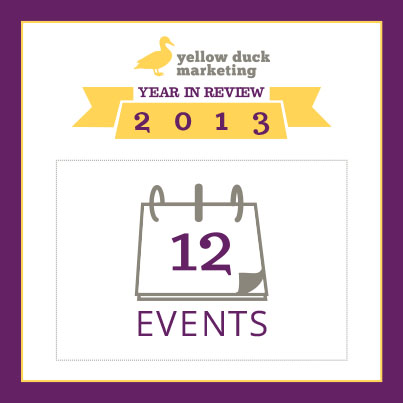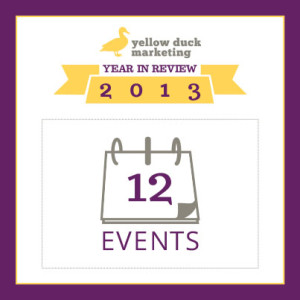 As far as events go, we were lucky enough to take part in some wonderful community and company events in 2013.  We helped plan a brand new 5-K race, a popular restaurant grand opening, several housing community grand openings, and a neighborhood festival.  YDM helped our clients make their events successful and fun – from invitation design to social media and event logistics the ducks can throw a rockin' (or tastefully boring, if that's what you're into) party!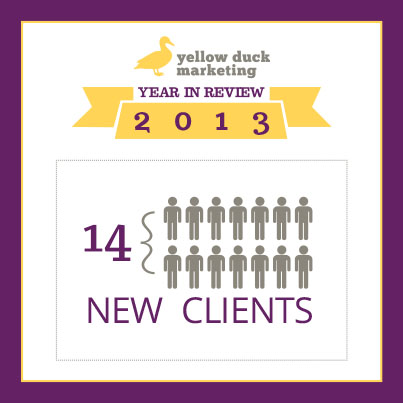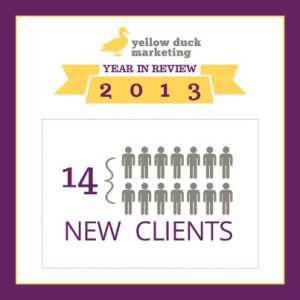 We love our clients- new, old and soon-to-be!  At YDM, we make ourselves extensions of your company and we will do all we can to help your business thrive.  2014 is looking great and we would like to THANK YOU for trusting us with your business.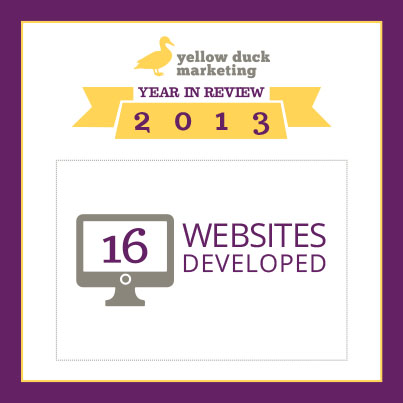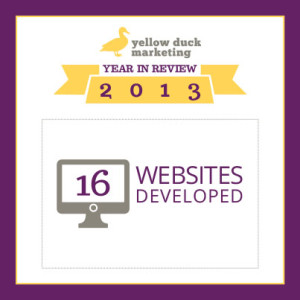 Being web savvy is not technically a requirement for your business, but once you have a YDM developed website you'll feel oh-so-techy! We do our best to design websites that fit your business goals, are visually stunning and easy to navigate and update. Whether it's a small microsite to get attention, an e-commerce website for a product line, or a more in-depth but engaging corporate website explaining your services, we've got you covered. We worked with both custom CMS systems, and customized off-the-shelf platforms like WordPress and Bigcommerce.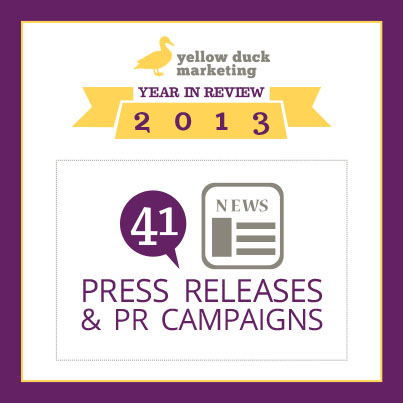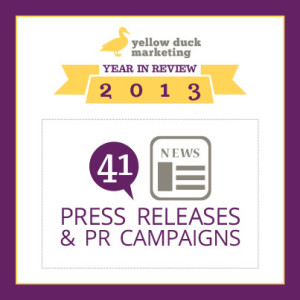 Getting our clients media coverage is one of our favorite things to do. We will work tirelessly to get your story heard.  In 2013 many of our clients were featured on different news outlets including this great article Renaissance West Community Initiative in the Charlotte Business Journal,  new affordable housing in Richmond, VA on and in a fun clip with WCCB's Wilson's World about the Tupelo Honey Cafe grand opening.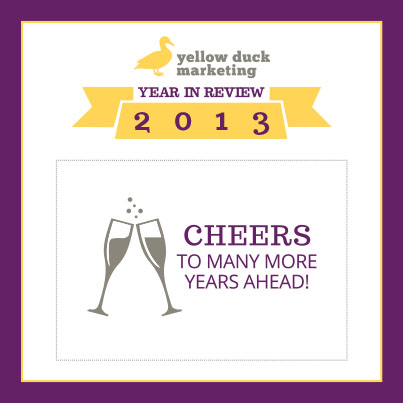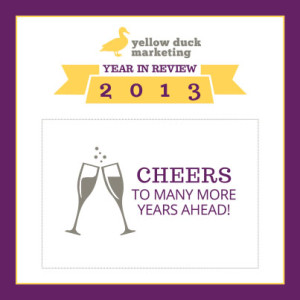 So to all of you, Cheers to an even more eventful year in 2014.  We wish you a happy, healthy and prosperous new year!