Yellow Duck Marketing's Premier Integrated Technology Offers Dynamic and Customizable Solutions for the New Home Builder and Buyer
There's a big reason Yellow Duck Marketing took home the Major Achievement in Market Excellence (MAME) Innovative Use of Technology Award in 2022. The Project Wingspan Portal offers a creative solution for niche new homebuilders to realize dynamic market value sale prices in an unprecedented market landscape.
We all know the onset of the pandemic has impacted the single-family home real estate market which has reached record highs with home prices and costs. This landscape is also coupled with challenging labor and supply chain issues that new builders are currently facing and the desire to maximize every dollar of value you're capturing for an expensive new build. It is virtually impossible to guess exactly what the current market rate is for a new home and homes are still going for over 100% of market value and listings are getting multiple offers but there isn't a consolidated easy way to look at all offers at a glance. For all these reasons, the outdated new home sales process could benefit from a facelift.
From these challenges, YDM hatched Wingspan New Home Portal, an innovative and customizable new home offer submission/collection process and construction progress portal built to serve as a solution for new homebuilders to address these intricate problems, while protecting and even bolstering profitability.
The offer submission and construction portal was developed on WordPress originally for BuyRevolve.com and allows real-time offers to be submitted by prospective buyers on a unit by unit basis.  Homebuilders and their sales teams can then view those multiple offers on a password-protected page and can sort by various entry fields. Once an offer has been accepted, it's as simple as clicking a button to generate an automated email to the buyer and an auto-populated contract that can be integrated with DocuSign. Once under contract, the portal also serves in the customer service capacity of providing ongoing customized construction project updates to those buyers throughout the homebuilding process.
New homebuyers realize a number of benefits from the platform, as well. In a digitally driven world and highly competitive market, the ease of submitting real-time offers from the palm of your hand makes the process incredibly easy and means the dummy-proof process means you don't have to have a real estate agent prepare an old fashioned offer. Once a new homebuyer is under contract, they also have a central location for ongoing project progress updates and key documents leading up to closing.
While the challenges of the current market landscape brought to light opportunities for improving systems and functionality, the dynamic experience and convenience provided with both new homebuilders and prospective homebuyers in mind is timeless. The tool streamlines the customer engagement process and experience throughout the homebuying and construction journey, while creating opportunity for the homebuilder to realize market-adjusted pricing. Rising inflation, as well as material and labor costs, make this dynamic pricing structure a must for keeping new home and community developments profitable and competitive.
Our 5 Favorite Things Wingspan Delivers
The platform can be customized and branded to any builder regardless of size and can be programmed to populate individual contracts providing functionality that was previously exclusive to national builders with huge budgets.
The online offer submission functionality allows builders to get competitive, private and qualified bids, increasing the potential new home purchase by up to 15%.
A password-protected offer page allows the sales team to receive multiple offers on a unit, see all offers immediately in an organized way and accept or decline an offer with the push of a button.
The online contract to PDF functionality prevents human error in calculating upgrade costs or deposit amounts.
Homebuyers under contract will receive exclusive access to their unique and user-friendly construction portal allowing them to access important documents, see real-time construction updates on a progress infographic and recent images of their lot, following where their home is in the build process.
Password-protected Home Builder Received Offers Page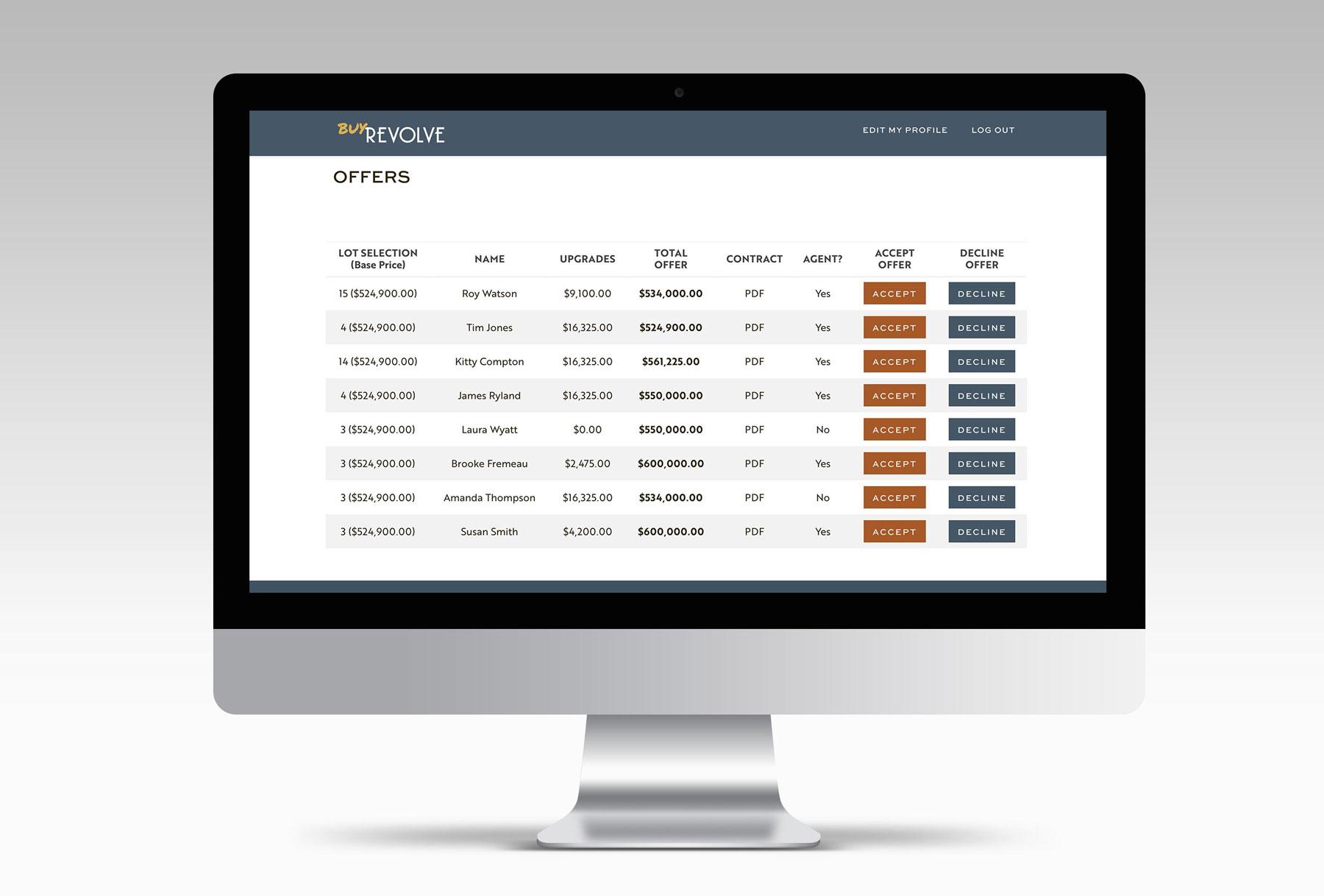 So How Does It Work?
The offer submission and construction portal was developed on WordPress with the goal of remaining nimble and allowing for customizations as needed. Interested buyers are directed to submit a single offer (or more) online in an easy two-step form with the only requirement being a prequalification letter. The platform guides buyers on submitting a price they are willing to pay for each unit with minimum values (by unit) protecting the builder with unlimited upside.
Customizations allow for integrating suggested starting bids, as well as upgrade packages, if applicable. The portal makes it easy for potential buyers who are looking to navigate the homebuying process with or without a buyer's agent, another trend we're seeing with the influx of e-buying and selling companies like Opendoor and Offerpad.
The completed form generates a PDF contract prepopulated with the buyer's information which makes the sales process a breeze if the offer is accepted. A password-protected offer page allows the sales team to see all offers at a glance and accept or decline an offer with the push of a button. Sales team members can focus on qualifying and serving potential buyers instead of spending time on the time-intensive logistics of multiple-offer management.
Another benefit of having home prices and buyer contracts that are populated dynamically through their own offer submission form is that the possibility for human error is eliminated. It also makes it quick and easy to DocuSign contracts, streamlining another step in the process.
All contracted buyers will receive exclusive access to their unique construction portal allowing them to access important documents, see construction updates and recent images of their lot, and follow where they are in the build process. This moves those prospective buyers to loyal customers as a tool to elevate customer engagement and the communications experience, which is critical throughout the homebuying and building journey.
Make Your Offer Form Submission Page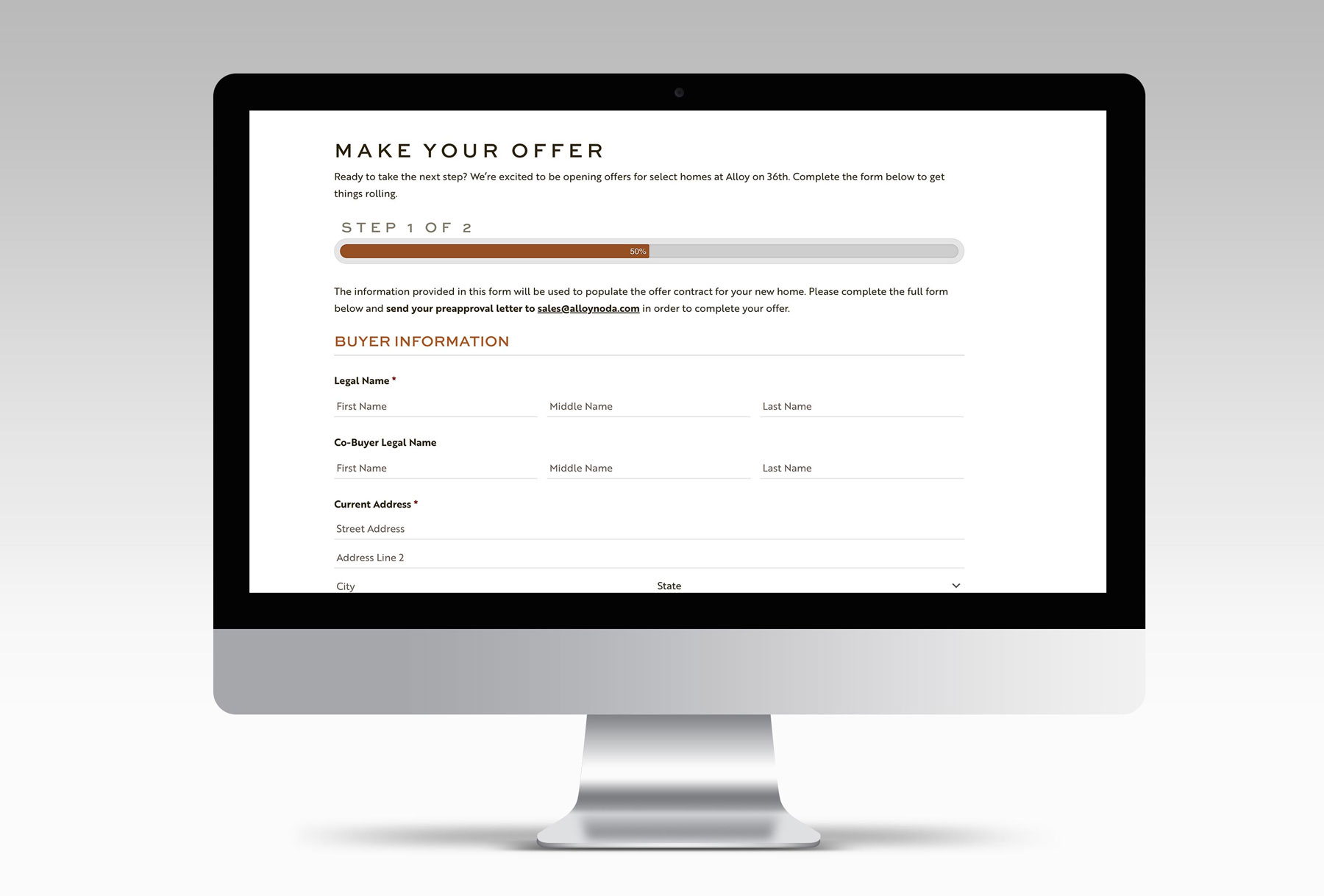 Password-protected Home Buyer Construction Portal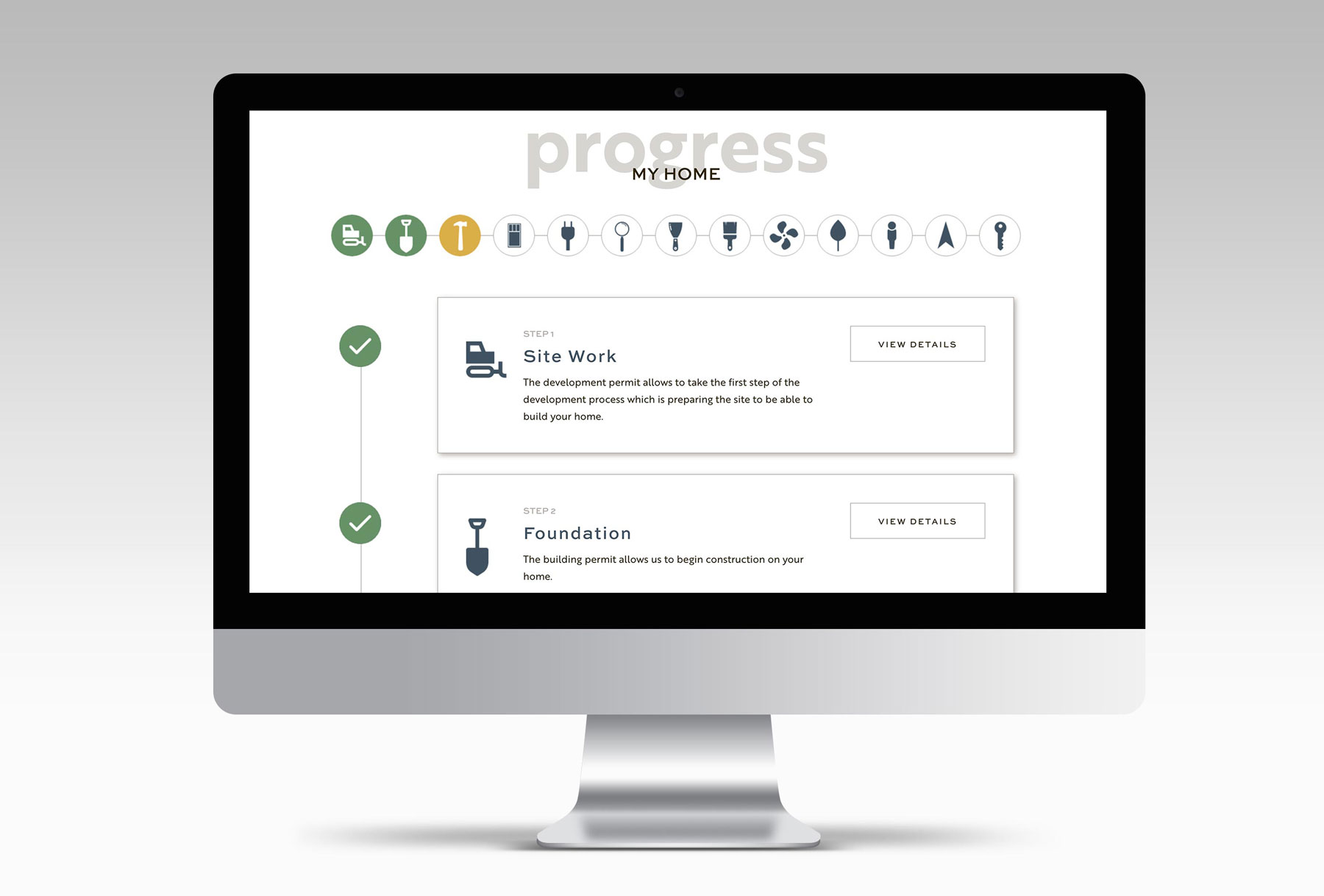 What customizations can be made?
Project Wingspan can be fully customized to meet an individual home developer's needs from fully implementing the new build developer's branding introduction and construction process language to construction portal iconography and so much more. Implementing Project Wingspan for a developer can be as turnkey or customized as you want. If you prefer just an online offer/contract to PDF and construction portal instead of an open bid option, we can do that too! If you don't want the construction portal because no one will keep up with progress photos/updates, that's OK too!
Once the platform is set up and customized as needed, key sales managers are provided training to be able to easily craft and submit ongoing updates throughout the project process for their customers.
Taking an Eagle Eye Approach: Plans for the Future
Yellow Duck Marketing offers ongoing portal management support packages and periodic training, as well, for developers experiencing fast growth and needing an extra set of hands. A marketing materials package can also be customized to support implementation and promotion of the portal to help with past buyer education as well as supporting sales marketing efforts.
Ready to maximize your new home listing pricing and make the buying process more user-friendly? 
Contact Kaycee Sinclair Mason at kaycee@yellowduckmarketing.com for next steps and pricing and see why we won the MAME Award!